I gave a presentation today to the senior executive team at the NSW Department of Justice, led by Secretary Andrew Cappie-Wood.
These are the notes I used for the talk on seven public sector trends.
Framing 1
The first frame reinforces the fact that the work of government is changing.  The public sector has been gradually changing into the "public purpose" sector.  Not that the public sector, in its traditional institutional form, isn't still important and distinct.  But more of the outcomes we want from those engaged in public work are co-produced in working conditions that are increasingly connected, collaborative and porous.
There is a new premium on legibility, which is not the same as transparency (which is always important). People don't just want to see what's going on, but at least at some level want to know why.
Finally, collective intelligence will be the dominant mode of most public work.  The ability to convene and sustain more complex "assemblies" of multiple and distributed intelligence (platforms, knowledge, expertise, resources) will be a rising function of government.
Framing 2
We live in a world trying to respond to the rhythms and potential of distributed networking with organisations and institutions still largely hostage to the constraints and habits of centralised or, at best, decentralised structures and culture.
As Paul Baran recommended in his seminal report for the Rand Corporation about ways the US could withstand a strike by the Soviet Union on American communications networks, distributed networking offered a mix of resilience and distributed power.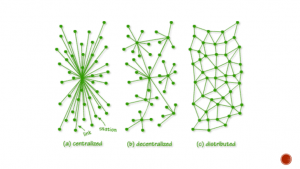 Much of the promise, and many of the pitfalls, of public sector reform are grounded in the clashing instincts and behaviours of these three ways of seeing the world – centralised, decentralised and distributed.
Working out which makes most sense for different tasks and contexts – they all have a role to play at some point and for some conditions – is a leadership task in itself.
Again that backdrop, these are seven public sector trends I have noticed or been directly engaged with over recent times.
1 Digital transformation: are we there yet
The digital transformation of government is at an interesting stage. We have made undoubted progress using digital tools and platforms to improve many of the more transactional dimensions of government.
The focus has largely been on convenience, speed and efficiency.  There has been less progress is three key areas – the application of digital tools and culture to the policy making, using digital platforms and capabilities to accelerate and deepen a larger open government agenda and improving citizen engagement by making government more legible.
The next stage of the digital transformation process will explore the relationship between digital capability, the changing role of government and new ways of working across the public sector.
2 Design: Fad or Future
The use of design in government is poised between a passing fad and a serious addition to the tool box of modern public administration.
On the fad side of the equation is the risk that the alluring legitimacy of co-creation and engagement with customers (the heart of good design) remains an attractive ad- on to relatively unchanged instincts for top down control and authority.
On the more positive side of the equation is the emerging evidence that, at least in some cases, design is being used to question and change many of the unhelpful instincts of policy and service design that routinely fail to reflect the impact on, and value for, those whose lives they are intended to improve.
[Extract from a chapter I have written for an upcoming publication from the University of Melbourne on design in the public sector]
"The rise of design and design thinking in the public service reflects a growing realisation that many of the risks and opportunities that communities and governments face can't be dealt with using many of the traditional tools and processes available to public servants and agencies.
The risks and opportunities have become more complex and interconnected, the power of government to create service and policy responses is diluted by an array of contending players and interests and "policymakers typically find themselves working with less time, trust and money to achieve their goals."
Many of the traditional tools and processes in the public sector, which tend to privilege predictability, control and distinct roles and accountabilities, struggle to engage challenges whose dynamics are fluid, interconnected and unpredictable."
3 The renewal of trust
Trust is leaking from the institutions of government (and a lot of other institutions too) at an alarming rate.  From Donald Trump to the royal commissions on child sexual abuse and banking, the evidence seems increasingly to suggest many public, private and civic institutions are out of touch and out of shape.
There are things that institutions can do to rescue trust.  Being more open and honest, communicating directly and consistently with stakeholders and responding to their concerns, becoming not just more transparent but more legible are all things institutions can do right now.  Royal commissions are institutional investments in greater legibility.  That's why they can be so time consuming, forensic and often painful in their insights and implications.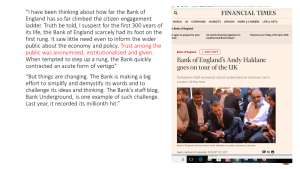 There is nothing inevitable about the decline of trust and there is some evidence, including the 2018 Edelman Trust Barometer report, that we have not lost our interest in knowledge and expertise.  When we find it, we respect it. But it has to be respectful, authentic and ethical. The renewal of trust is a fixable proposition. The public sector is especially well placed to contribute to, and in some cases lead.
It's worth reinforcing, picking up on the work of someone like Andy Haldane in the UK, the Deputy Governor of the Bank of England, that the work of trust rebuilding is neither spectacular nor quick.  Its arc is long and patient and relies primarily on the daily habits of clear thinking and honest public servants and their leaders.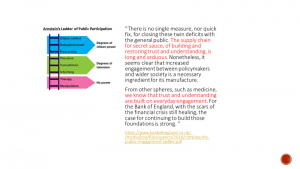 4 Confusion about commissioning
The language of commissioning has become both more pervasive and more familiar.  It isn't clear whether its practice (a bit like the current fate of design) has shifted from convenient label and relatively superficial lip service to deeper and more substantial practice.
The promise of commissioning is palpable.  It offers the prospect of a more discerning conversation about the best way to achieve policy, regulatory and service delivery outcomes.  And, in the process, it engages a challenging discussion about what those outcomes are or should be in the first place.
The risk is that, in the clash between an instinct to commission and some of the traditional requirements of procurement, procurement wins. Commissioning, rightly understood and done well, will have a profound impact on the culture and performance of the public service if it is allowed to work properly and if Ministers and public servants are prepared to invest some hard work, courage and authority in its evolution and spread.
5 Collective intelligence assemblies
The speed, intensity and complexity of many of the risks and opportunities that government is trying to resolve are putting government and the public sector to the test.  They are making new demands on our ability to combine the best available skills, expertise and resources – inside government and outside in the business, academic and community sectors – and point that collective firepower at the right place to achieve deep system shift.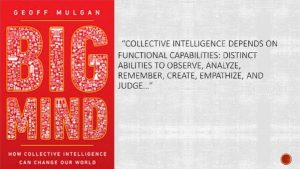 There are some examples where "assemblies" of collective intelligence are helping difficult problems that impact big areas of our lives like health, social care, education and cities.
But too often, the collaborative instincts of collective intelligence run counter to many of the cultural and institutional practices of public policy.  This is how Geoff Mulgan put it in 2006 [Good and Bad Power: The Betrayals and Ideals of Government 2007]
"They require openness to the unexpected, the time it takes to become immersed in and conversant with a complex system, familiarity with many disciplines, and the mental toughness needed to escape the tyranny of the status quo. They require counterbalances to the tactical and contingent – the fear of leaks that crushes honest debate, the insecurity that prevents rigorous self-scrutiny and the wishful thinking that prefers not to contemplate unpleasant possibilities." (My emphasis)
6 Bringing policy and delivery back together again
The last 30 years of public sector reform, under the influence broadly of "new public management", have driven a substantial wedge between policy and delivery, between 'thinking' and 'doing' in policy and services.  It's becoming obvious that divide has made it harder to solve the problems we want to solve and achieve the outcomes that people want.
If we want solutions that are simpler, more integrated, durable and responsive to people and context, we will need to find ways to reconnect policy making and delivery.
Delivery people need to be in the room from the start of the policy process, not kept out until the policy people have finished their elegant (or not so elegant) designs and then thrown them, as it were, over the fence in the hope that the delivery folks will somehow work out how to make it work out.
In particular, policy systems will have to confront the possibility that some of the most important and valuable information needed for good policy making is to be found at the "moment of truth" interactions with frontline staff, customers and citizens. Failre to close the policy-delivery gap is not just unhelpful, it ends up creating a policy process that risks becoming inefficient, foolish and disrespectful.
7 Solving problems, changing systems: a question of AMP
There is an inverse relationship between the rising rhetoric around system change and any evidence that systems are actually changing.
We know that many of the big systems we engage every day – education and learning, welfare, child protection, the criminal justice system, transport, food and agriculture for example – are struggling to adapt to new performance demands in a world characterised by speed, intensity, connectedness and a thirst for legibility.
They are being asked to swap "scalable efficiency" for "scalable learning".  [John Hagel reference] They are also being asked to think more deeply about whether or  not the way we address the individual elements in a larger system (the "pieces"), which is often driven by short-term demands for "results" and a political fix,  undermines our ability to make larger system (the "puzzle") work more effectively.
What that requires is a longer view of "what works" and some patient institutional and political that can understand and adjust to the system's complexity and unpredictability.
There are plenty of people trying to tackle the challenge of system change.
Success will be difficult but not impossible.  It will be a function of time to stop long enough to think about the long term, invest in some open and honest mutual (and highly collaborative) learning and a willingness to contemplate, and then act to achieve, new flows of authority, money and power.
Generally speaking, if those three things are not flowing differently, systems aren't changing.